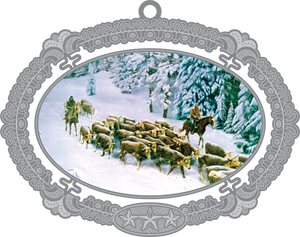 Early Snow is a part of Mort Künstler's collection from The Old West, which is part of his American Spirit collection. Early Snow is one of the pictorial chronicles of the drama and excitement of American History. These paintings give the viewer an insight into the tumultuous life of this young nation that mere words cannot achieve.
   After the trails from the cattle country lengthened to Wyoming and Montana, the cowboys learned to prepare for snow, early and late. This painting was created in 1973 as an oil on canvas.
   Considered one of America's greatest historical artists, Mort Künstler has become well known for the extraordinary authenticity and drama of his work. Mr. Künstler has created paintings that educate and enrich the viewer's understanding of some of the most important events in American history.